Boo and I had a lovely weekend filled with visitors and homecomings. My cousin Kate and her boyfriend Will came to stay with me for the weekend and my sister, Marissa is back home for summer vacation as of yesterday. Before I knew about my visitors, I thought the weekend was going to be a lonely one, but it ended up being a wonderful time.
We ran outside in the sun until it rained and wore our red heart-shaped sunglasses with pride. We sat at a picnic table and painted, wrote, read and did our nails with sparkly polish. We watched movies and laughed until we fell asleep. We went grocery shopping for buttery popcorn, milkduds, cookies and summery beer. We supported local restaurants and enjoyed delicious dinners, wine and better conversations recounting family memories.
I always have such a great time with Kate and Will.. I'm so glad they were able to spend some time with me this weekend. They live only a short distance away in Brooklyn, but sometimes when life gets in the way, those 15 miles seem like thousands.
Now it's time to get back into swing of things.. but since Marissa is here enjoying her summer vacation and my California trip is coming up in 5 days- that miiight be easier said than done...
In other news..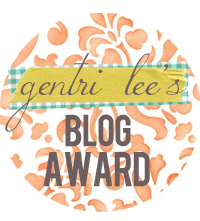 ..my friend
Gentri
features a "blogger of the week" every week on her blog and this week I was honored to be the feature! She is super sweet and adorable and her blog is gorgeous and really fun. I'll have a guest post up there sometime this week, so I'll be sure to let you know about it if you'd like to seeee, but I definitely recommend you hop over and say "hi" to Gentri, because shhhheee is super awesome.
OH! It's also her birthday today and she is having a reallllly fantastic giveaway! Yay! Happy Birthday Gentri!